2019.01.09
【Episode 1 on air from 01:25 on 1/16 (Wed.)!!】Kenjiro Yamashita, Keita Machida and Masayasu Yagi appearing in Fuji TV's drama "Love or Not 2"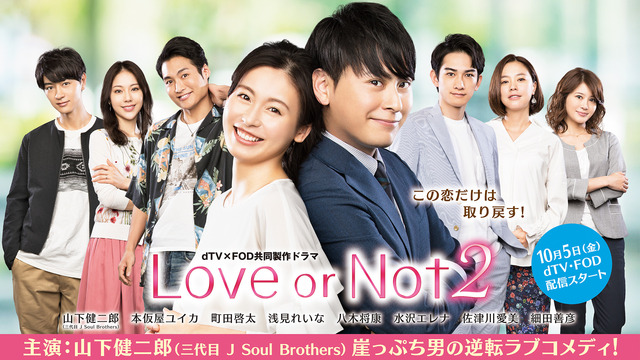 Original goods are now on sale!!

It is the sequel of "Love or Not" where Kenjiro Yamashita played his first lead role!
The clumsy and insensitive hero, who is no good at work and in a desperate situation, is dumped by his girlfriend and falls into a major crisis!?
It is a throwback love comedy depicting how he deals with the new romance
and gets his beloved girlfriend back while helping to weather the crisis that occurs to her!
Keita Machida and Masayasu Yagi who played in the first season will appear again in this sequel!
DOBERMAN INFINITY's new song "Never Change" is chosen as the theme song!
【Story】
Kosuke (Kenjiro Yamashita) and Mako (Yuika Motokariya) finally live together.
At first, they are deeply attached to each other. But different life paces make them diverge gradually.
In spite of this, Kosuke still makes up his mind and proposes to Mako one day. But her answer is...
A new girlfriend (?) gets him into an unexpected trouble (!). Kosuke keeps striving amid ups and downs. What will his life be like at last?
Will he mend his "romantic relationship" which is about to end!?
【Broadcast Schedule】
1/16 (Wed.) 01:25~
6 episodes in total
*On air in Kanto region
【Cast】
Kenjiro Yamashita
Yuika Motokariya
Keita Machida
Reina Asami
Masayasu Yagi
Erena Mizusawa
Aimi Satsukawa
Yoshihiko Hosoda
【Director / Scriptwriter】
Naruhide Mizuta, Masashi Asami, Toshiyuki Honma / Takuya Masumoto, Iyo Nishikori
【Theme Song】
"Never Change" by DOBERMAN INFINITY
【"Love or Not 2" Official Social Media Accounts】
~Instagram~
loveornotdtvfod
~Twitter~
@loveornotdtvfod
【"Love or Not" Official Homepage】
https://www.fujitv.co.jp/loveornot/