2022.04.06
【New stills unveiled!】Movie "Cherry Magic THE MOVIE ~Thirty Years of Virginity Can Make You a Wizard?!~" featuring Keita Machida
Movie "Cherry Magic THE MOVIE ~Thirty Years of Virginity Can Make You a Wizard?!~"
featuring Keita Machida
to hit the big screen on 4/8 (Fri.)!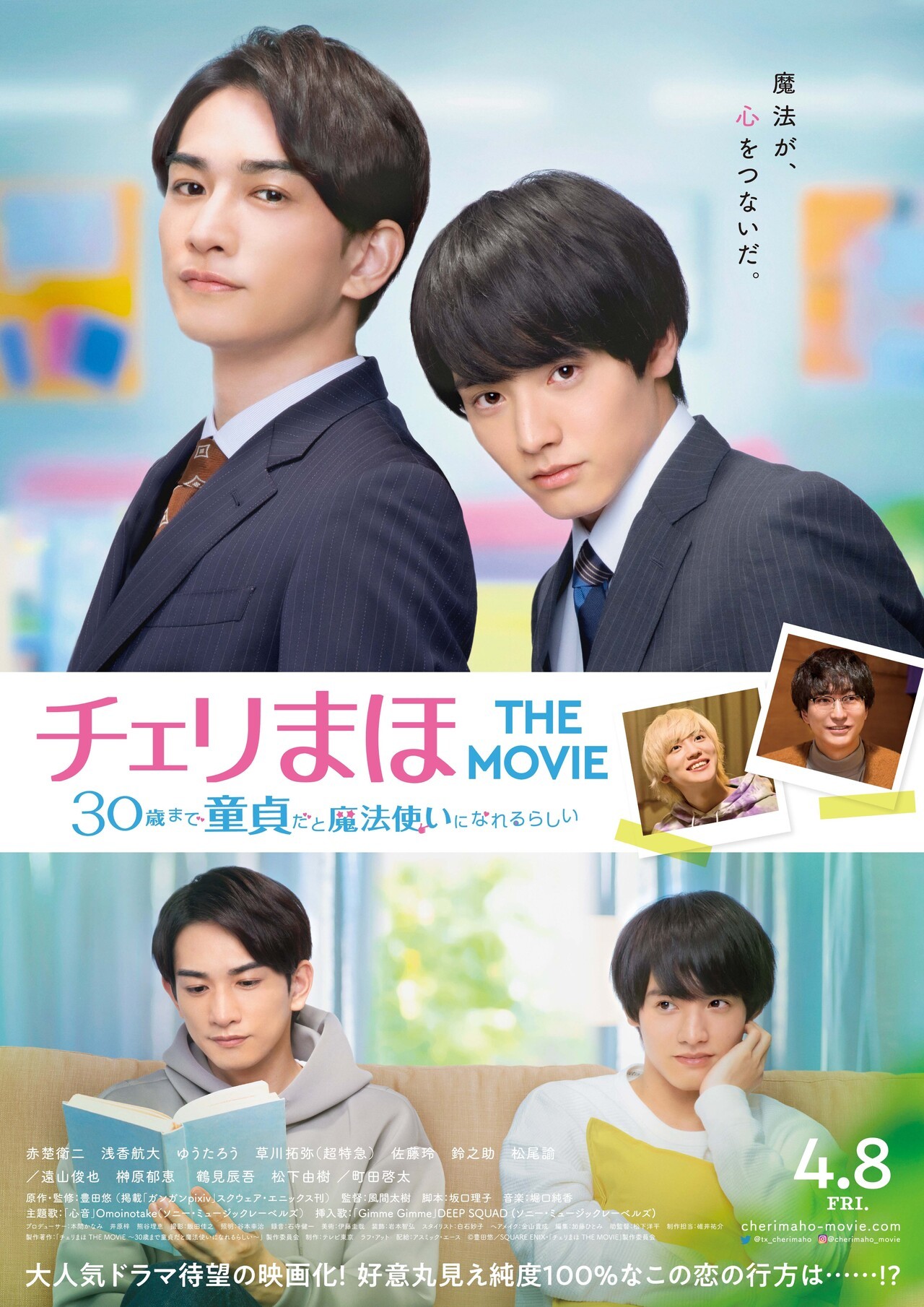 The love comedy "Cherry Magic! Thirty Years of Virginity Can Make You a Wizard?!" adapted from Yu Toyota's popular comic, which has sold over 1.8 million copies, started airing in October last year (TV TOKYO / Thursday Drama 25 / 12 episodes in total).
Its much-anticipated sequel, the movie "Cherry Magic THE MOVIE ~Thirty Years of Virginity Can Make You a Wizard?!~", will hit the big screen on 4/8 (Fri.)!
Keita Machida will continue to play Yuichi Kurosawa.
The drama "Cherry Magic! Thirty Years of Virginity Can Make You a Wizard?!" became a hot topic on social media due to its pure story and cute characters. The number of its fans has been greatly increased with the broadcast of each episode.
Right after the broadcast of the drama, the key phrase "Cherry Magic" became a trending topic in Japan, Thailand, South Korea, Vietnam and other countries. Now, it is available for watching worldwide in over 200 countries and regions!
After the broadcast of the final episode, along with a great deal of attention there were cries about "Cherry Magic Loss". Moreover, the drama has been viewed for the most times among all the "all-you-can-view" works on the video streaming service "TSUTAYA Premium/TSUTAYA TV", making it a social phenomenon.
In the drama, Adachi (Eiji Akaso), who is a common office worker, gets "the magical power of reading the minds of the people he touches" because he remains a virgin at the age of 30. The story starts with him touching Yuichi Kurosawa (Keita Machida), a handsome elite who enters the company at the same time as him, and discovering the guy has a crush on him!
Adachi, who feels confused by Kurosawa's love, but is moved by his straightforward thoughts, starts to date him. Although there are misunderstandings and conflicts, they confess their love again on Christmas Eve, which leads this story to a touching ending.
It seems that he finally can "graduate" from being a "wizard"... However...
Please look forward to the movie that tells the later story between Adachi and Kurosawa!
The stills unveiled this time features the scene which shows Adachi and Kurosawa having breakfast amid a sweet atmosphere in Nagasaki where Adachi got transferred to!
Taking into consideration the health of Adachi, who has been busy with work for a long time, Kurosawa perfectly cooks a nutritious Kurosawa-style breakfast including Pot-au-feu and potato salad using a lot of ingredients sent from Adachi's hometown.
Adachi's "So delicious!" usually comes after "Let's enjoy our meal" when the two of them eat together. But this time, something important happens right after that...?!
What will happen? Please look forward to the release of the movie!  
Be sure to check it out!
◆Movie release celebration! Understand the story in 5 minutes! Drama digest video◆
◆Trailer◆
The trailer video begins with the monologue of Adachi, the main character played by Akaso, "Fairy tales always have happy endings with the help of magic. However...". Adachi who has acquired "magic through which he can read the mind of the person whom he touches" still can use it and Kurosawa (played by Machida), Adachi's colleague and now also his lover after having a crush on him, invites Adachi to date by touching Adachi's hand in the elevator of their company. He can use the magic even better than Adachi does! During their date in a camp, Adachi unexpectedly hears Kurosawa's "voice of the heart" and smiles happily while being a little confused. Adachi who enjoys delicious food cooked by Kurosawa... Kurosawa's brightest smiles only for Adachi... Kurosawa who is happy about Adachi's special omelet rice but is too full to enjoy it... There are many wonderful scenes which are funny or touching. They two are living a happy life, but Adachi is asked to work in Nagasaki. They keep on misunderstanding each other because they think for each other on the matter of job transfer... What kind of future awaits them who are protected by their friends and family members?!
◆Special promo video◆
The special promo video begins with special messages from Eiji Akaso and Keita Machida.
Two of them feel "very happy" about the movie adaptation and show meaningful smiles for what happened in the movie after the drama.
The video continues with many famous scenes from the drama.
A common office worker Adachi who remains a virgin after his 30th birthday gets "the magical power of reading the minds of the people he touches" in the morning of his birthday.
Confused about the unexpected power, he suddenly touches a handsome elite named Kurosawa, who entered the company at the same time as him, and hears nothing but "Kurosawa's inner thoughts full of love for him" after hearing love words from Kurosawa including "My heart beats fast.", "Adachi smells so good...", "Sorry, I like you." and "Adachi is special for me..."!
"Pure" Adachi becomes bewildered when he feels others' fervent love for him for the first time in his life. Kurosawa has an "ardent love" for Adachi and unconsciously reveals the feelings despite his cold poker face. In their pleasant and sometimes sad experience, the bonds connecting their hearts are deepened by degrees.
Finally, their love comes true on Christmas Eve. In the final episode of the drama, it seems that Adachi "formally graduates from being a wizard". However, magic is back in the movie!
What happens in that evening...? How will their relationship develop?!
Making & Behind-the-scenes photos
▼NEW!!▼
Stills
◆Shooting Site Report◆The shooting started with the scene in the elevator where Adachi learned about Kurosawa's feelings for the first time in the drama.
Perhaps Eiji Akaso also had a special feeling, "When I saw the elevator, I felt that it is a place where I belong. I became Adachi again and came back.". Then, Keita Machida entered in the next scene.
He kept muttering "It has been a long time." excitedly since morning. It seemed that he felt a little shy after coming back and it was a refreshing feeling. Machida was very happy and said "Ah! I am back!" during the shooting in Toyokawa's office.
There are scenes showing the eye contact between Adachi and Kurosawa in the office where you can feel the happy atmosphere between them.
In the behind-the-scenes photos you can see how Akaso and Machida happily show their rice balls and their chatting during the break of shooting.
Kodai Asaka, who plays the role of Masato Tsuge, and Yutaro, who plays Minato Wataya, make their first appearance during Adachi and Kurosawa's first visit to a shrine.
The four people met by chance in the shrine and talked with each other.
When Kurosawa smiled at Adachi on the way, the director said "Isn't it too mischievous?" and Machida also answered "Did I overdo it?".
From planning to test and formal shooting, they were filmed from different angles and their performance became more and more natural in this process.
During the shooting, Machida suddenly said "I will make amazake next time." which was not in the script and that made the other three respond with "What?".
Moreover, Adachi laughed happily when he saw Tsuge and Minato being together.
When Tsuge jabbed Adachi in the shoulder with his fist, his clumsy movements made the other three burst into laughter.
One day, there was a light rain, but when the staff finished preparations for the shooting, they found the rain had stopped. Akaso also said happily, "The rain has stopped?!" after he came back to the shooting site.
On the other hand, there were also serious scenes. There was a scene where Kurosawa rushes to Adachi despite the rain.
The sudden job transfer... The frustration caused by their misunderstandings... Their love towards each other... It was an important scene where they needed to pour their emotion.
After the end of the shooting, both of them said "It seems that 10 minutes have passed, although this scene only lasts for about 5 minutes.".
Machida seemed to meet some difficulties in this scene. He listened to the advice from the director and said "It is very difficult, but I want to have a try.".
In the drama, Kurosawa led Adachi to self-approval. In the movie, Kurosawa's growth and development will be depicted. What kind of change will happen to Kurosawa? Look forward to it!
In addition, Akaso and Machida, who play Adachi and Kurosawa that had a sweet time as lovers, also enjoyed the long-awaited shooting of "Cherry Magic"!
■Keita Machida's Comment
It is a great honor for me to have this "magical" opportunity.
Thanks to all people whom I met through "Cherry Magic", I can enter this world again.
Thank you very much! Please look forward to the new work.
"Cherry Magic" is a work that showed me a lot of mindsets important for my life.
I hope I can bring those soft feelings and warmth I gained from this work and everyone to the viewers of the movie.
What kind of story will we create with this great team including the staff members, Akaso and other cast members? I am looking forward to new challenges!
◆Release celebration stage greeting event to be held on 4/9 (Sat.) & the event to be live-streamed nationwide!◆
Click here for details
◆Bonuses for those who come to movie theaters to be distributed in a limited quantity!◆
【Part 1】Postcard featuring the illustration newly drawn by Yu Toyota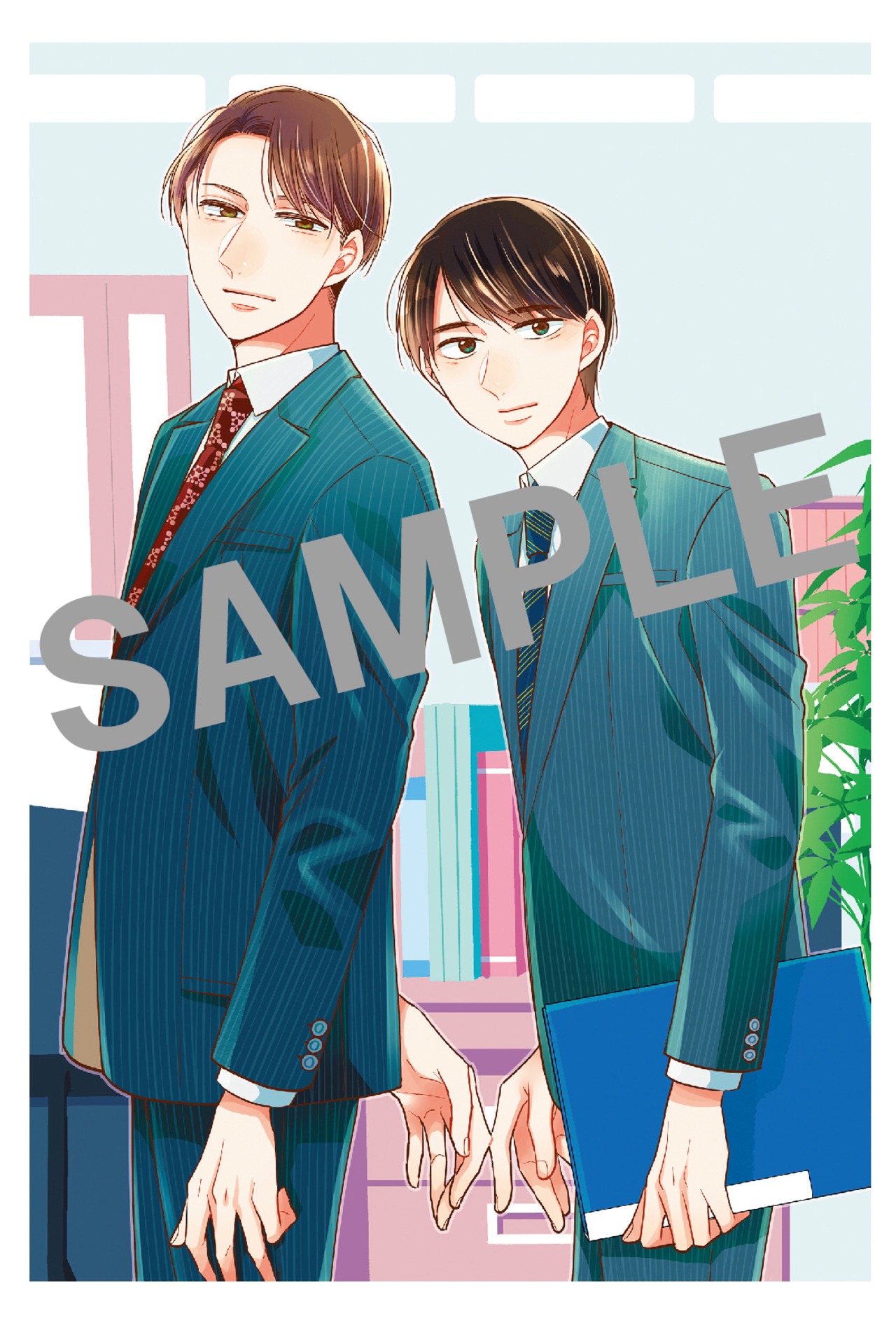 Distribution Period: 4/8 (Fri.) ~ 4/14 (Thu.)
*Distribution will end once postcards are out of stock.
*Postcards are scheduled to be distributed in movie theaters around Japan where the movie is screened.
Click
here
for the movie theaters screening this movie
◆Movie ticket cards with bonuses coming in a limited quantity to be sold!◆
Click here for details
◆Drama "Cherry Magic! Thirty Years of Virginity Can Make You a Wizard?!"◆
【Rebroadcast】
・TV TOKYO: Every Thursday 03:20 ~ 03:50 / On air now
・TVh: Every Thursday 00:00 ~ 00:30 / On air now
・TVO: Every Sunday 01:26 ~ 01:56 / On air now
・TVQ: Every Sunday 02:00 ~ 02:30 / On air now
・BS TV TOKYO: Every Monday 02:45 ~ 03:15 / On air now *From 02:55 on 2/14 (Mon.) & 2/21 (Mon.)
【Streaming Platforms】
TSUTAYA TV / Paravi / Hulu / J:COM On Demand / TELASA / milplus / au SmartPass Premium / Hulu
Net mo TV TOKYO
【Cast】
Eiji Akaso, Kodai Asaka, Yutaro, Takuya Kusakawa (Bullet Train), Ryo Sato, Suzunosuke, Satoru Matsuo / Toshiya Toyama, Ikue Sakakibara Shingo Tsurumi Yuki Matsushita / Keita Machida
【Original】
Yu Toyota "Cherry Magic! Thirty Years of Virginity Can Make You a Wizard?!" (Serialized on "Gangan pixiv"/ Published by SQUARE ENIX)
Information about the original work: Vol.1 ~ Vol.8 now on sale
【Director】
Hiroki Kazama
【Scriptwriter】
Riko Sakaguchi
【Producers】
Kanami Honma, Azusa Ihara, Rie Kumagai
【Production】
"Cherry Magic THE MOVIE" Production Committee
【Production Company】
Laugh At
【Distribution】
Asmik Ace
【Theme Song】
"Shinon" Omoinotake
【Soundtrack】
"Gimme Gimme" DEEP SQUAD
【Official Site】
https://cherimaho-movie.com
【Official Twitter】
@tx_cherimaho
【Official Instagram】
@cherimaho_movie
©Yu Toyota / SQUARE ENIX, "Cherry Magic THE MOVIE" Production Committee